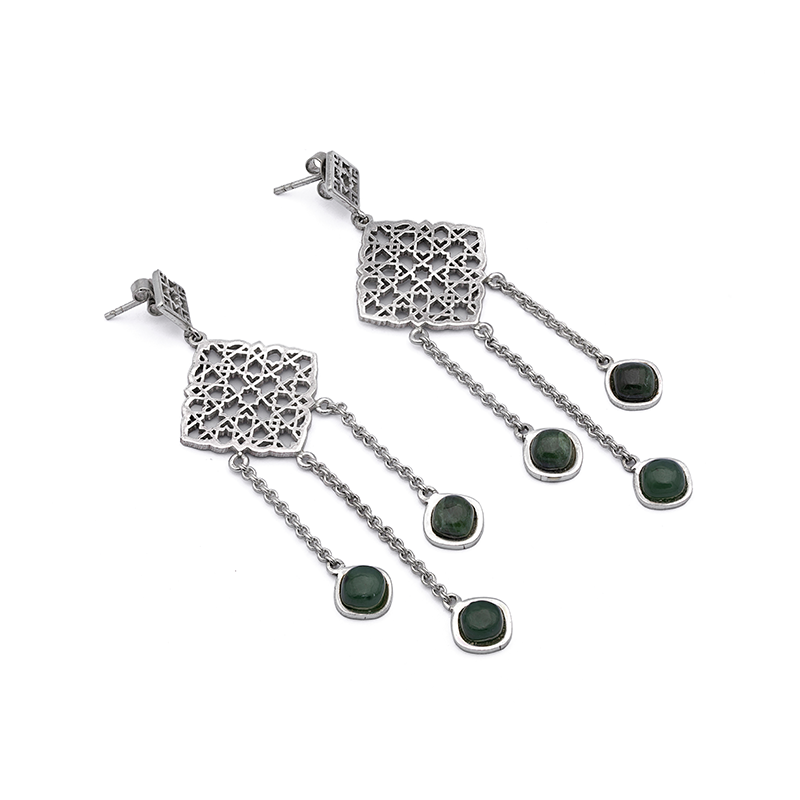 Sindhi Shaheen - Silver Nephrite Jade Earrings
Rs.16,500.00
-Liquid error (snippets/product-price line 26): divided by 0%
Introducing "Tarkan" - A Magnificent Jewellery Collection Inspired by the Mausoleum of Mirza Essa Khan Tarkhan. Step into the world of elegance and grandeur with our exquisite jewelry collection, "Tarkan." Inspired by the mesmerizing geometric patterns found on the historic mausoleum of Mirza Essa Khan Tarkhan, this collection captures the essence of intricate craftsmanship and timeless beauty.
Mirza Essa Khan Tarkhan, the illustrious Governor of Thatta during the Mughal era under the reign of Emperor Shah Jehan, was known for his noble lineage and significant contributions. This collection pays homage to his legacy and the architectural marvel he left behind.
Each piece in the "Tarkan" collection reflects the grandeur and splendor of the mausoleum's architecture. The jewelry showcases the harmonious fusion of geometric patterns and floral motifs, meticulously crafted in silver with natural gemstones. 
With intricate designs, superior craftsmanship, and a blend of traditional and contemporary aesthetics, this collection promises to captivate the hearts of those who appreciate beauty and heritage. Indulge in the splendor of the "Tarkan" jewelry collection and experience the allure of ancient architectural motifs reimagined in wearable art. Let these exquisite pieces be a reflection of your unique style and a tribute to the rich history that inspires us all.
customers are viewing this product